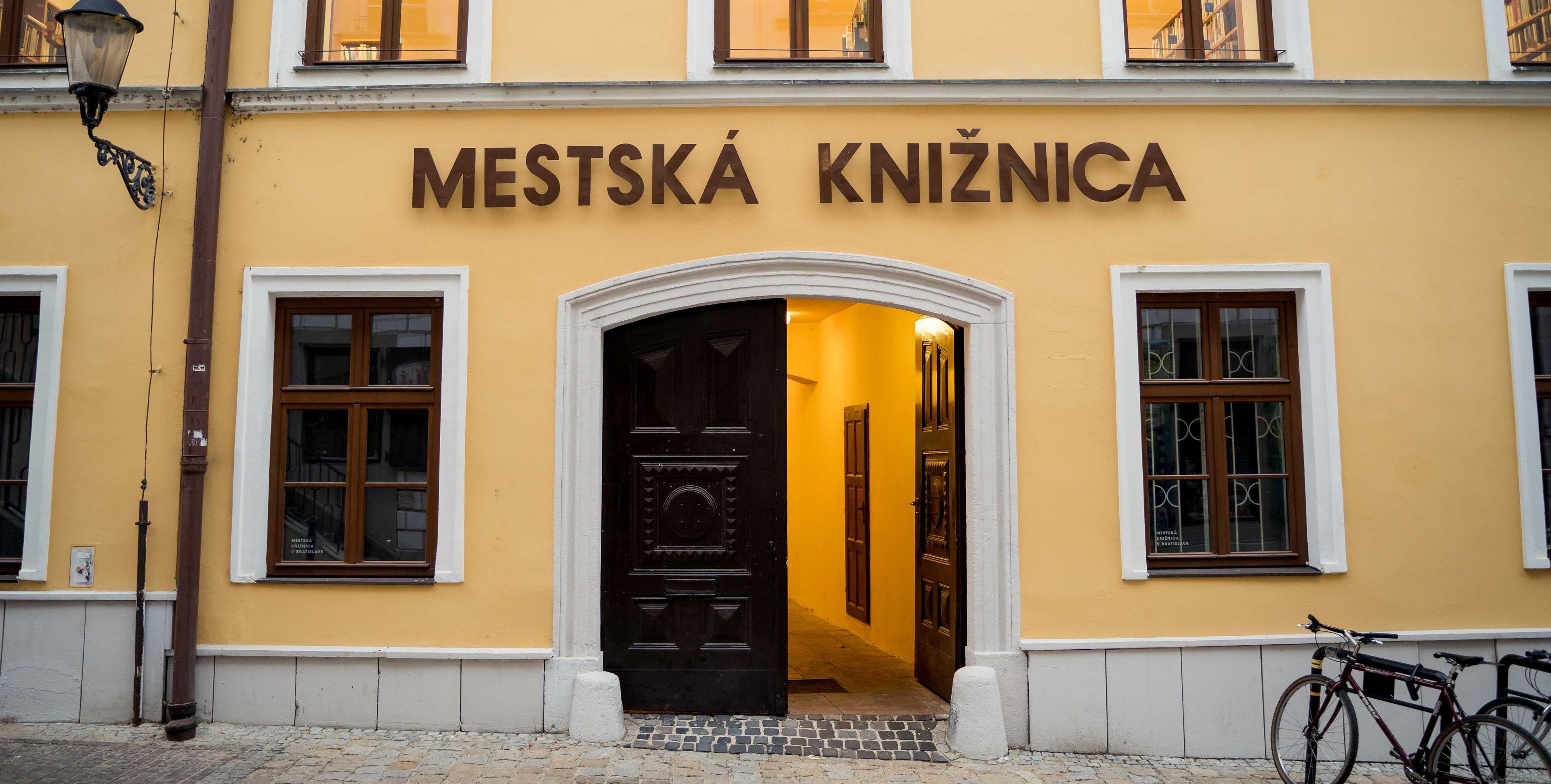 Description
In the building on Klariská 16 you can find professional literature, services for the visually impaired, a bookbinding workshop, and also the director's office.
Department of Professional Literature
The department covers professional literature from all disciplines with a focus on the social sciences (e.g., philosophy, psychology, economics, linguistics, pedagogy, sociology, social work, history). You can also find here regional literature about Bratislava and other cities and countries of the world, selected regional periodicals of Bratislava city districts. You can choose from a variety of nonfiction books, statistical yearbooks, encyclopedias, dictionaries, maps, atlases, and tourist guides. Newspapers and various professional and popular science magazines are available in the study room.
Department for the Blind and Visually Impaired
The department specializes in providing services to blind, visually impaired and otherwise disabled people. You can find here audiobooks, board games, and various aids for all those who have difficulty reading classic-format books. There are also audio magazines, magazines in Braille and with enlarged black print for the visually impaired available. The department also provides professional publications, magazines, bibliographies, and thematic files on the issue of visually impaired users. We regularly prepare educational, cultural and community events for visually impaired people, awareness-raising events and educational excursions for schools at the department.
Access to the department's services You can use the services of this department free of charge. Free registration is intended for people with objective disabilities. Apart from the blind and visually impaired, they include, for example, people after a stroke, people with epilepsy, learning disabilities, dyslexia or autism.
In addition to your ID card, one of the following documents must be submitted at registration:
disability card
membership card of the Civic Association of the Blind and Visually Impaired
a doctor's recommendation for the use of the library services (this document is necessary for all otherwise disabled people).
Useful links: Loan Rules of the Department for the Blind and Visually Impaired ↗ The department operates in cooperation with Matej Hrebenda Slovak Library for the Blind in Levoča ↗ and Library and Printing House for the Blind in Prague. ↗
Bookbinding Workshop
Our bookbinding workshop will professionally bind your master thesis or repair your favorite book. You can also print and bind your documents here or repair hardcover, thermal-bound or comb-bound documents.
Check out the bookbinding workshop's services and price list.
Summer Reading Room Klariská
The courtyard at Klariská 16 serves as summer reading room during summer of 2022. It supplements Summer Reading Room U červeného raka, which couldn't be open this year due to reconstruction.
From May to September, the Reading Room provides you with magazines and daily newspapers, access to the internet and the library's e-sources. You can also borrow a tablet or a reader here. You can use the services even without library registration.
The Reading Room offers many cultural and community events, which you can attend during the whole summer.
Contacts and opening hours
Where to find us
Address
Klariská 16
Public transport
tram no. 9 – Kapucínska, Poštová stops buses no. 31, 39, 80, 83, 84, 93, 94 – Zochova stop
Contact Us
Subscribe to our Newsletter